Floating lantern and Fireworks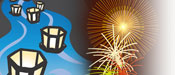 Floating Lanterns and Requiem Fireworks has been successfully completed. Thanks to everyone for all of their coorperation.
Date: August 13, 2011(Sat)
Event Start: 3:00 pm
Lantern OPENING: 6:00 pm
Fireworks Start: 8:00 pm
Visitors: 5,000
Fireworks: 3,000
>>
Go to report
Call for foster parents of the revival cherry blossom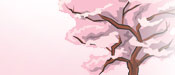 A plan to plant cherry seedlings in the tsunami damaged area is carrying out. We got the young cherry branches from the cherry tree of the elementary school and junior high school, which suffered damage but made the flower bloom later.
If the planted cherry trees make flower in full bloom, it will become a new sightseeing spot.
>>
Learn more

The Project to revive Natori by tourism